I continue to see resumes with "objectives" that are meaningless.  Here's another one from this week:
"To be given the opportunity to work full-time in a facility utilizing my skills and work experience.  To grow with a company and establish a career."
Here's another:
"To support the growth and profitability of an organization that provides challenge, encourages advancement, and rewards achievement with the opportunity to utilize my experience, skills, and proven abilities."
Sounds great – would you like to hire this person? But what do you know about this person? Is he/she a candidate for flipping hamburgers or for a CEO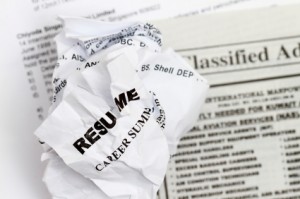 position? Does he have skills in supervising, organizing, planning, selling, marketing, etc? Is she proficient in any computer skills? We don't know. This "Objective" tells us absolutely nothing about the person. It was a total waste of time on the applicant's part.
Knowing that most resumes get 30-40 seconds look, you'd better tell the recipient something about yourself that would make them want to see you as a candidate. IMMEDIATELY! Begin your resume with a Skills Summary, Profile, or Expertise. Here's an example:
Skills Summary:
"Over 14 solid years in technology planning and management. Experienced in strategic systems, organizing and overseeing projects. Knowledgeable in R&D, product development, and financial management. Team player in maintaining company policies and procedures. Expertise with IT businesses, especially those with complex technical, logistical and implementation challenges."
Don't waste your time with generic lead-ins that get you sent to the bottom of the pile. Use your 30 seconds to convey your "unique value."
Companies are not in the habit of helping you out.  What they do want is someone who can make a contribution.  What is it that you can do to benefit them?
Expanded examples in 6 Job Offers in 10 Days (Chapter Six in 48 Days to the Work You Love)